Ingredients:
500gms chicken,
20 bamboo skewers
1 "enak eco" satay sauce slab
3 red chillis if you wanna make it spicey
sweet soya sauce (thick)
a clove of garlic
1 lemongrass
FIRST soak the bamboo skewers, not only does it stop them from burning while cooking, they don't take away moisture out of the chicken.
Grind the chilli, garlic, lemongrass fine.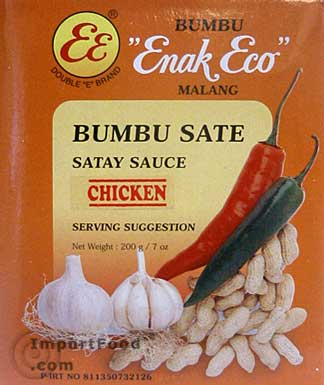 Boil 150 ml water, and add the ground paste and diced satay sauce slab, 50ml of sweet soya sauce, stir rather regularly for 5 minutes and you are done. Let it cool down while you cut the chicken into the size of a garlic clove and skewer them.Use only one half of skewers as you want to use the other half to turn them over while cooking.
Use 2/3rd satay sauce that you have prepared to baste the chicken and bbq / grill on medium to high heat. Try to cook evenly on all sides by turning over regularly (but not continuously).
Pour the remaining 1/3rd satay sauce on the cooked skewers once on the plate. Serve with coarsely chopped spanish onions and cucumber. Traditionally, indonesians also serve chopped chillis in sweet soya sauce.